If you have plenty of photos from your last trip or family party there is absolutely no sense in keeping them stocked on your Mac. Wouldn't you rather turn them into something interesting instead? For example, there is a great variety of software for making photo presentations that look like a video clip.
Having read this article you will learn how to make a slideshow on Mac using Movavi Slideshow Maker. It is a handy editing program that will give you all means to create a bright photo presentation with special effects and an original soundtrack.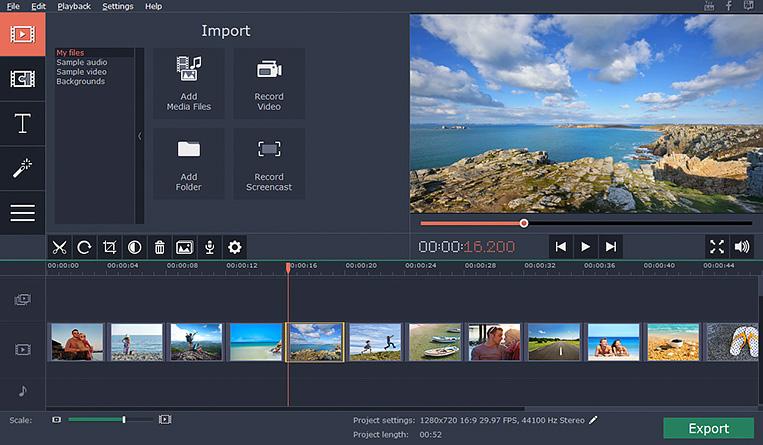 Manage the video track
First, you need to upload images and videos to the timeline. You can do it by dragging the files one by one, or uploading folders. Record videos from your webcam and add them too – make your photo presentation more dynamic with some bits of video.
Arrange the files the way you need and add elegant transitions. This will make your slideshow flow smoothly.
There is quite an impressive set of tools to edit your footage and enhance its quality. You can cut, crop, rotate and flip the images, and adjust the colour. Highlight and conceal parts of the photos, zoom in and out. Plus, if you've got videos with jitter, you can remove it with the help of Stabilization tool.
Apply various filters – artistic, mosaic or retro, add flying objects to your presentation to make it more lively, and insert captions of any size, font and colour.
Talking about special effects – there are several tools that will let you turn your footage into a marvellous Hollywood-like movie. For instance, Chroma Key. It is a technology now popular in filmmaking that replaces the background of an image or a video. Try it with some of your photos and surprise your friends showing them images of your vacation in an unusual place.
Work with audio
Then, your slideshow will need a cool soundtrack. Add any melody to the timeline, or upload several tunes. Cut them into pieces and join in the necessary order creating your own background music. You can also record a voice-over via microphone and add your own narration to the presentation.
Use beat detection to adjust the tempo of your slideshow. This will add markers to the timeline so you can sync the slides with the rhythm.
You can easily do all of that in a full feature mode. There is also an easy mode, so called Slideshow Wizard that will help you create a slideshow in 3 simple steps:
Add images and choose slide duration
Select the style and duration of transitions
Upload music and sync the slides with the beat
Having done that you can continue working on your project or save it without any changes.Movavi Slideshow Maker for Mac lets you save your photo presentations in any convenient format, optimize them for viewing on particular devices or for online sharing.
So now you know how to make a slideshow on Mac and can begin creating your first photo presentation. Let your imagination flow, and Movavi will bring all your ideas to life!
Some of the medicines can help promote men's heartiness, depending on the problem. Nowadays, online pharmacies fill millions of online prescriptions worldwide. One of the best treatment for erectile dysfunction is Cialis. What about sexual dysfunctions and "Cialis 60mg. Now, there are variant options for humanity who suffer from erectile disfunction. Likely cialis cost is an extremely complicated question. If you have any concerns about price Comparison, check with your doc before capture the therapy. A common class of antidepressants, which include Prozac, may cause erectile dysfunction. Apparently you already know that any drug has side effects.
end429_();