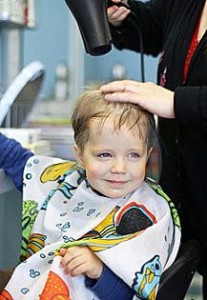 I remember that for years had to deal with the problem that my children disliked the idea of going to the haircut.
Especially with younger, was a real challenge to avoid crying and convince them sit 20 minutes in the chair, which trust at the hairdresser and they knew that the noise of the electric razor was not so alarmed.
Everything seemed so complicated until some day … we discovered a hairdresser in which each chair had a TV and console fun games for children. Additionally the place is painted in bright colors and withdraw from the court, they give them a balloon and candy.
Nothing could be better! That day not only the problems are over but now, my children just hope they grow a little hair to ask us to take them to the hairdresser with video games. All thanks to people who know that the added value makes your business more profitable.
This perhaps is a very simple example but I'm sure conveniently illustrates the enormous difference that added value can mean for your business. In fact, it is this factor that can make the difference between your store and the corner or between your company and the competition.
In the illustration of the hairdresser or even mention the latter (the video game) was indeed an much more expensive place. He paid almost double what other, but the satisfaction of having freed a common problem and the mere fact of seeing the smiles on the faces of my children to leave place, were enough for the price I did not care.
Additionally worth mentioning that the place was spotlessly clean, tidy, hairdressers were presentable and they were friendly with the kids. Also, they had always available any of the 3 local newspapers and magazines for those who were waiting to do them his court children.
Needless to say that the business was a success and always crowded to the point that if we were on a weekend had to take a number to know when playing our turn. Why? Because the customer does not care much the price or the wait if you find a business that will provide solutions to their problems.
Investing in value added means giving more, offer better service and of course charge more, but a good strategy can make the difference need to make your business more profitable in every sense of commercial positioning.
Flatters something visitors to your business: the mere fact that someone crosses your door and visit your local and an opportunity.
You can have treats for those who visit you. There has to be something very expensive, can be candy, soda or a simple reminder to make that more enjoyable visit.
A smile always adds value: Be sure to train and motivate your colleagues and employees to always offer a smile and friendly service to your customers. They will appreciate it and if they have to make a buying decision, certainly good treatment will have weight. And besides, it's free!
Send a thank you note: once concretes a good sale or a big business, send your customer a thank you note which express how important it is to have clients like (them) and thanks for your confidence in your company.
It offers home delivery service: if it is not part of your policy, you might consider the possibility of offering door delivery of your products. Since then the implementation of this service is more expensive and must evaluate before offering it, but could represent a major difference to your competition.
It offers something extra in service: so that your costs do not shoot, you can provide some extra value represented in service. For example, if you have an auto shop, a nice touch would be to each customer to fix it your car, give it to him washed and polished. If they do not expect this would be a great way to surprise.
Implements something that reduces discomfort in the waiting : If your business people have to make a time-out or a row to be treated, can reduce anxiety and make it easier offering a coffee, pure water, a television or newspaper . The client will relax and be carried in the end a good taste and recomiendaciones for your business.
Instead of discounting, it offers something extra : a great way to not compromise your prices is to offer something extra. In this way your customers will feel fulfilled and satisfied to have obtained "something more" for your purchase. An extra garment, one more day, one dessert, one for brake or a discount on the next purchase are some of the proposals that may work for you.
Remember, the real success of the added value lies in "surprise "your client. But I always surprise you are completely satisfied with your primary product or service. If this is not fulfilled, whatever you offer will not have the desired effect.
Imagine a pediatrician featuring balloons and candy your children but simply do not provide an effective and reliable treatment.
What would be your impression about this? The same applies in a restaurant, in a machine shop, a hairdresser, in a cybercafe in a clothing store, in a theater or elsewhere. Finally we must realize some basics regarding the value added offer before:
Added value is to offer "anything" or offer it for the simple fact of giving "something else". If it is not carefully planned and oriented to customer satisfaction strategy, it will not function.
The added value should be handled with restraint because when you offer something extra the first time, your customers will expect it as an integral part of your service all the time.
The main objective of implementing a strategy of value added is to make your customer withdraws satisfied, return to your local and recommends.
For the success of this strategy requires the commitment of your employees. Deliver a gift accompanied by indifference or bad service is the best formula for failure.
Everything in your business plan to be accompanied by dedication, pleasure and a good smile from your collaborators.