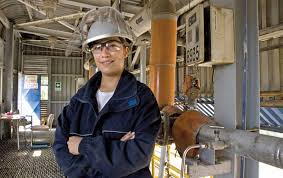 Companies with more workers improve productivity, better adapted to the changes and have a more stable workforce.
Despite the great advances in gender equality in the world, companies with more women than men in both payroll and joints directive- remain a rarity.
In fact, although women workers represent 40% of the global workforce, the International Labor Organization estimates that about half of the productive potential of women is not used.
But a study by the International Finance Corporation (World Bank Group entity that works with the private sector) reveals that women bring more help to businesses, no doubt, to protect their rights, while it is good business.
The research analyzes various considerations about the work of women and includes suggestions on how to estimate the benefits and what the costs would be to look for a company that decides to open the doors to female labor force.
It presents six case studies of companies in various regions of the world that obtained concrete benefits to include women in its workforce and establish their policies for gender equality in the areas of recruitment, management, salary or themes Flexible policies motherhood, family and health. These companies are:
Odebretch (Brazil): This construction considerably increased the number of potential candidates to fill vacancies from the lower levels to the board of the company, allowing them access to the best talent available.
Anglo American (Chile) Despite the prejudices that their jobs are considered "men" with their decision to hire women this mining company improved productivity and innovation, strengthened team dynamics, and optimized making process making.
Continental (Thailand): This provider of automotive parts, 41% of employees are women. In a place where there were few well-trained engineers and few local employees, they managed to attract and retain the kind of workers they needed.
Finlays Horticulture (Kenya): In two years, the internal promotion of 69 women will this agricultural company saved $ 200,000 it would have cost them to hire and train new employees.
Mriya Agro Holding (Ukraine): In this rural area Ukrainian women live up to 10 years longer than men. And besides, many of the men migrate. By hiring women with good working conditions, they managed to retain more employees and have a good relationship with the community – which, in turn, has helped to attract investors.
Nalt Enterprise (Vietnam): In 2008, the garment export company built a kindergarten for the children of its employees, and since then the monthly turnover rates have declined on average by one third. This means a cost reduction of nearly $ 500 for each new worker.
Latin American barriers
Unfortunately, these initiatives are not common in Latin America, where in some countries the barriers for women to work are not just cultural, but in many cases, legal and administrative.
Elizaveta Perova, World Bank economist, notes that "the lack of flexible policies and suitable for families, in addition to traditional gender roles that give the responsibilities of households women also prevent their access to paid work."
These barriers have much weight, for example, in the fact that many women choose not to opt for more lucrative careers as science, technology, engineering or mathematics. In this practical difficulties as the near absence of service quality and cheap childcare for the children of working mothers are added.
Nevertheless, the work was instrumental in the Latin American region that achieved major successes in combating extreme poverty. Approximately 30% of the reduction of extreme poverty between 2000 and 2010 is attributed to women's work, experts calculated.
To combat stereotypes, experts recommend creating development programs unconventional skills for women, to promote their interest and opportunities in engineering, mechanical or other traditionally "male" sectors.